Over the past 12 years, Alacrita has carefully assembled an extensive network of professional life science consultants, representing all key disciplines involved in the development and commercialization of drug products. These consulting associates typically bring 25+ years of experience in their respective fields and often specialize in specific therapy areas and product modalities.

What sets Alacrita apart is our capacity to build consulting teams with skills and experiences that precisely match the needs of our clients. Working with Alacrita, biotech companies can access the same caliber of expertise of a specialist consulting firm, but replicated across multiple disciplines in a single place. This allows us to support clients across a broad range of areas without any sacrifice in quality, while also permitting us to provide a multi-disciplinary and multi-stage perspective that can improve project results by delivering better strategic insight.

This structure allows Alacrita to work with a range of clients including pharmaceutical & biotech organizations of all sizes, including start-ups, virtual, growing and established companies, life science investors and selected academic institutions. Our consulting projects are typically issues-driven, can include both strategy and execution, and may involve individual consultants or multi-functional teams of experts. Our consultants and network experts do not typically participate as respondents in surveys or market research reports.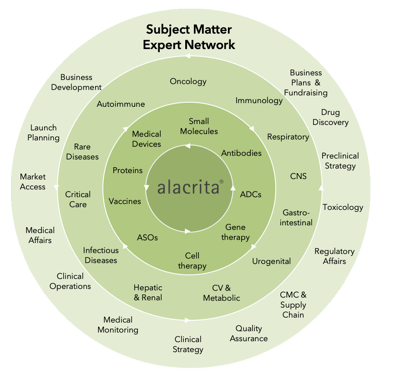 A snapshot of our network:
75+ MDs globally. The majority of our MDs are clinical development experts, some of whom are CMO caliber, while others specialize in medical affairs.
35+ MDs with expertise in Oncology. Many bring hands-on clinical development experience in solid and liquid tumors, targeted therapies, and immuno-oncology.
50+ Cell & gene therapy consultants, offering significant expertise across a range of functional disciplines.
35+ experts with regulatory affairs experience. This includes senior regulatory affairs leaders and experts with regulatory agency experience, both in the US & Europe.
40+ experts with CMC expertise. Each brings significant industry experience and specialized knowledge across a range of therapeutic modalities, disease areas, and geographies.


For more information on our services click here, or reach out with the form below.