Cell therapy expertise:

From discovery to commercialization, we've consulted on over 45 innovative cell therapy programs, covering a range of therapeutic areas, indications and functional disciplines. We support clients on the cutting edge who are developing novel next-generation therapies that are increasingly more complex and that require deep technical, analytical, and scientific expertise. Our consultants provide this at every stage of the development process, helping clients advance their programs, overcome obstacles, and reach their cell therapy goals.

We also frequently advise private equity investors and venture capital firms on individual assets, pipelines, and companies, helping them assess value and evaluate risk through due diligence and valuations.

Our core team draws from our Expert Network, which contains over 50 senior consultants specializing in cell therapies, allowing our capabilities to span the below areas:


Preclinical Pharmacology
Toxicology
CMC Manufacturing
CMC-Regulatory/Quality
Intellectual Property
Clinical Strategy
Clinical Execution
Regulatory Affairs
Supply Chain
Commercialization
Business Development
Technology experience: Our expertise covers a range of cell therapy technologies including immunotherapy-focused Tumor-Infiltrating Lymphocytes (TIL), Engineered T Cell Receptors (TCR), Chimeric Antigen Receptor T Cells (CAR-T), and Natural Killer (NK) Cells, as well as stem cell therapies such as induced pluripotent stem cells and mesenchymal stem cells, both allogeneic and autologous.
Disease-area expertise: We have supported programs across a range of indications including oncology, autoimmune diseases, cardiovascular disease, ophthalmology, CNS and rare disease.

Each of our project teams is tailored to the exact needs of the client, with cell therapy-specific consultants who bring an average of 20 years of industry experience. Whether you're a private equity investor considering a cell therapy opportunity for the first time, or a biotech company developing a therapeutic, we can provide the relevant expertise needed, regardless of the stage of the product or program.
A breakdown of our cell therapy experts:

Number of consultants, by general discipline and by education: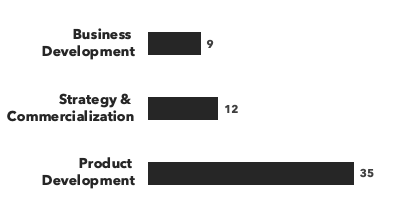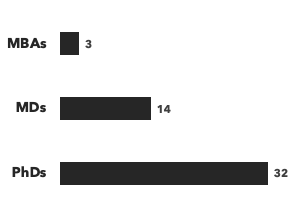 Recent cell therapy consulting projects:

Product characterization, indication selection and high-level development plan for company looking to develop exosome-based therapies: A clinical stage stem-cell company with its own proprietary cell lines had developed technologies to enable production of exosomes at a commercially relevant scale. The company asked Alacrita to scope out a five-year plan (pursued in-house or as the basis of a spin-out business plan) to capitalize on its exosome assets.




Input into term sheet negotiations for cell therapy asset: A publicly-traded biotech was negotiating a term sheet with a potential licensor and asked Alacrita for input into critical financial terms. The asset was a cell therapy, a technology in which the client had limited commercial experience, and the client urgently needed information into CMC costs and timelines for the product.


Comparing clinical response rates for Tumor Infiltrating Lymphocytes against other therapeutic modalities: Alacrita was supporting a European investor as part of an ongoing workstream to evaluate the benefits of refocusing its investments into the tumor infiltrating (TILs) space. Following a clinical landscape analysis performed by Alacrita, the investor commissioned us to provide competitive intelligence around TILs technology in key cancer indications.


Appealing FDA refusal of an orphan drug designation application: A biopharmaceutical company was seeking assistance to prepare a response to the FDA's initial refusal of its orphan drug designation application for its novel CAR-T therapy intended for use in an orphan subset of a non-orphan condition. After reviewing the FDA's feedback, our expert FDA orphan drug consultants worked with the client to understand the available data and advise on a suitable justification for, and develop appropriate arguments to support, designation for the proposed subset. Our experts then searched the scientific literature, identifying credible supporting references and used these to prepare a robust response document based on sound medical, scientific and regulatory principles. Following client review of the response document, and submission to FDA, the Agency granted orphan drug status for the proposed orphan subset with no further questions.


Commercial development plan for a mesenchymal stem cell therapy in acute GvHD: Our client was a leading UK research institute requiring assistance in assigning internal commercialization funding to the most promising research groups within the university. Alacrita was asked to assess the viability and market attractiveness of selected projects and to develop individual Commercial Development Plans (CDP) that could be reviewed by the funding committee. One such group requiring a CDP was developing a new mesenchymal stem cell (MSC) therapeutic for the treatment of acute graft versus host disease.


Providing regulatory strategy for T-cell therapy: A leading T Cell Receptor (TCR) biotechnology company, focused on delivering first-in-class biological therapies for serious diseases, wanted to understand whether it had the capabilities to launch its lead product, in the case that it were to receive accelerated approval, without partnering with larger companies. We provided commercialization guidance, with the overall objective being to ensure the client was adequately prepared for the eventuality of an early commercialization event for the product. This included an assessment of the regulatory pathway for the product and any obstacles that had to be considered.


Competitive and market landscape for CAR T-cell therapy: A biotech company developing a platform technology to improve the safety of CAR T-cell therapies asked Alacrita to conduct a comprehensive competitive landscape to better understand the current CAR T-cell therapy space. The company wanted to understand the product profiles of top CAR T-cell therapies in development, current challenges in the field and solutions other companies are employing, as well as the deals landscape. This would help guide their business and product development strategy to maximize the value of their technology.



Search and evaluation of stem cell medicines:

A listed North American biotech needed support with the identification of early-stage in-licensing and acquisition opportunities in the field of regenerative medicine. Alacrita was engaged to provide asset scouting. We conducted a scouting exercise for late-stage academic or seed-/early-stage commercial programs in the field of regenerative stem cell therapies. By leveraging our extensive network in academia and early-stage private companies, we were able to introduce our client to a number of opportunities that were not previously known to them nor were they yet listed in syndicated licensing databases. The client then conducted its own detailed assessment of these opportunities.


Providing an oncology cell therapy reality check: A venture capital investor needed a reality check on a clinical stage cancer biologic prior to a proposed $10m investment with a very short deadline. Alacrita's cancer immunotherapy expert conducted the analysis within four days, which included a review of a comprehensive data room encompassing preclinical, clinical, regulatory, manufacturing and IP matters. Our report identified the areas of key risk in the project and suggested how to mitigate them. The target company reviewed our report and agreed with the findings including the major areas of risk that we identified.