Antibody & ADC Therapy Support
We consult with clients on a range of antibody and ADC programs, and routinely advise investors and BD teams on individual assets, pipelines and companies. Our core team draws from our Expert Network, which contains over 80 senior consultants experienced in this modality, allowing us to build a project team that precisely matches the expertise needs of your project.
The support we can provide ranges from opportunity mapping and business strategy to regulatory affairs, preclinical and clinical support, to due diligence, valuations and licensing, partnering & dealmaking.


A breakdown of our Antibody & ADC experts:

Number of consultants, by discipline and by education: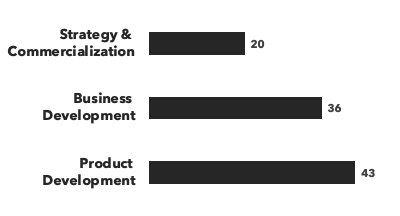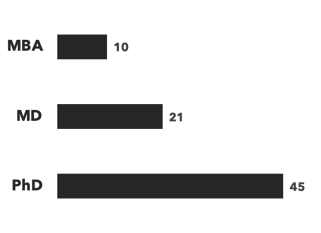 Recent Antibody & ADC projects:



Scouting fibroblast-associated biologics in oncology, fibrosis and autoimmune disease: A biotech company with a focus on fibroblast biology and associated therapeutics wanted to expand its pipeline by in-licensing preclinical stage assets that modulate pathogenic fibroblasts or other fibroblast-adjacent opportunities. After conducting scouting activities in-house, the company engaged Alacrita to provide additional support to identify potential partners and assets

.




Pre-due diligence of two early-stage innovative product investment opportunities: A pharma company sought Alacrita's support in providing high-level go/no-go pre-due diligence of two early-stage strategic investment opportunities. The company had so far been focused on the development of generics and essential medicines, with decades of experience in drug development, producing and distributing products to several continents and having its own R&D center, but was now branching into innovative product investments. One product under due diligence was a lead candidate small molecule targeting a calcium channel that is over-expressed in GBM. The second product was a nano-ADC with a novel proprietary linker to treat various cancers.


Due diligence of a novel single chain antibody platform: A European investor asked Alacrita to conduct a due diligence exercise on a company that had developed a novel single chain antibody platform with its lead product in ADC format ahead of a major financing round. The client had formulated a series of specific questions to focus the DD but also asked Alacrita to investigate any other major issues that arose during the assignment.


Providing CTA submission support for a monoclonal antibody: Our client specialized in the development of proprietary monoclonal antibodies directed towards novel targets for the treatment of immune-mediated and fibrotic disorders, including orphan indications. It had identified a novel pathway that mediated inflammation and fibrosis, and as such had developed proprietary antibodies to target it. For the lead antibody the client planned to initiate a Phase IIa proof of concept (POC) repeat dose safety study in patients with a fibrotic liver indication and asked Alacrita to help create the IMPD and manage the submission of the Clinical Trial Application and associated approvals.


Development plan for a novel immune-boosting biologic in cancer treatment: A leading private US academic institution had created a therapeutics accelerator program to support early discoveries and facilitate industry partnerships of its assets. Its current focus was a project developing an agonist antibody immune booster for applications in cancer and it required support to guide the next steps of development. As part of an ongoing collaboration, Alacrita was commissioned by the University to perform a data gap analysis and to provide a roadmap for generating key data that would be required for securing future investment.



Valuation and deal making for oncology antibody:

A biotechnology company developing novel multi-specific antibody therapeutics to treat a range of cancers asked Alacrita to develop valuations for its four leading assets, as well as license deal options for partnering discussions. We developed a valuation for the four assets in a total of 26 indications, developing projections for the addressable market, peak penetration, pricing and the associated product revenues in the major markets for each asset. The RoW opportunity was estimated as a multiple of the major market opportunity. We similarly developed projections for costs, timelines and probabilities of success at each go/no-go point. We evaluated the company's own projections as potential inputs in addition to using our experience and judgement to develop assumptions for key inputs into the valuation model. The output was a risk-adjusted NPV valuation overlaid with Monte Carlo simulations to highlight the range of valuations and key sources of uncertainty.