Drug Discovery Platform Support
We've consulted with clients on over 15 categories of drug discovery platforms, including AI-driven, RNA, oligonucleotide/genetic, cell therapeutic and antibody. Our capabilities in these technologies span a range of therapeutic areas and functional disciplines. Our core team draws from our Expert Network, which contains 11 senior consultants experienced with developing, commercializing and advising on discovery platforms, including providing due diligence and conducting valuations. These resources allow us to build project teams precisely matched to the specific needs of each unique technology.
The support we can provide ranges from opportunity mapping and business strategy to regulatory affairs, preclinical and clinical support, to due diligence, valuations and licensing, partnering & dealmaking.


A breakdown of our discovery platform experts:

Number of consultants, by discipline and by education: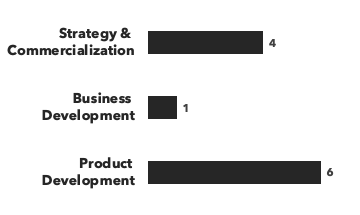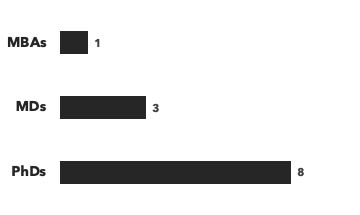 Recent discovery platform projects:
Opportunity assessment for functional RNA & protein arrays: A UK university had developed a technology that permits the creation of surface-immobilized functional RNAs in a microarray format. The technology has the potential to impact both industrial and academic research and contribute significantly to the unravelling of the complex interactions currently hidden within the transcriptome. Previous work on commercialization planning had established interest in the technology among both prospective academic and industrial users. However, feedback from interested parties highlighted that the university needed to better demonstrate utility of the RNA arrays in a practical application. Alacrita was therefore asked to provide further business planning and development support to the project.


Market assessment and opportunity mapping for an antibody discovery and screening platform: A European research institute had developed a novel antibody technology capable of rapidly screening and selecting millions (and potentially billions) of antibody producing clones using a simple array technology, allowing the analysis of every single clone without the need for enrichment. The institute wanted an assessment of the market potential of the platform, to inform the development of a commercialization strategy and plan. Our antibody consultants performed primary and secondary market analysis for the technology, engaging with potential customers, likely end users and other stakeholders of the antibody industry. We profiled the emerging and existing competitor landscape for the proposed antibody technology application and investigated potential routes to exploitation. We additionally mapped out the markets and customers where the antibody technology would have the strongest potential, and identified key application areas, presenting the level of unmet need and the benefit the technology could add. We interviewed the scientific teams of several antibody developers and gained further insight into competing antibody discovery and clone selection technologies. We gave robust, market-tested guidance to our client along with a low-risk commercialization roadmap.


Due diligence on a AI-driven drug discovery platform: A biotech company had developed an AI-driven drug discovery platform to discover phytocompounds and bioactives with the potential to impact human health. Alacrita was retained to conduct a due diligence of the platform and the initial molecules identified by it for NASH/NAFLD as well as other GI indications, and to make recommendations for how best to partner the technology with pharmaceutical companies.


Commercialization roadmap for an RNA array platform: A leading UK University was developing an innovative technology to permit the creation of surface-immobilized functional RNAs in a microarray format, by transcription and 'printing' from corresponding cDNA microarrays. The technology had provided promising preliminary results, however, it needed direction in selecting the best commercial applications. Alacrita was therefore asked to explore the most viable applications for the RNA array and to advise on the most valuable path to commercialization.


Defining a clinical strategy in oncology for a platform technology: A venture capital-backed platform technology company wanted to develop its internal pipeline of therapeutic oncology candidates, while allowing prospective partners to access the technology platform through selected R&D collaborations. Alacrita was asked to help create a detailed early clinical plan for the company's lead asset, to be used as a foundation piece of the business strategy. Our oncology consultant created a detailed timeline and gap analysis for the company's initial IND filing and Phase 0-l clinical trial launch.


Evaluating a pipeline agreement with a platform technology company: A division of a multinational pharma company needed support evaluating a pipeline agreement with a platform technology company. The client wanted to know what the overall value of this partnership would be.

We assessed the commercial potential of the opportunity and provided a critical analysis of the risk adjusted NPV (rNPV) model in use by the negotiation team. We tested the underlying assumptions using real-world data incorporated into a Monte Carlo simulation model. The approach provided greater insight into the impact of the underlying uncertainties, allowing the key outputs (e.g. NPV) to be expressed as a range, with confidence intervals, rather than a single number. We also reviewed a selection of early-stage biotechnology deals to generate a comparables analysis. This allowed the deal to be benchmarked against analogous transactions, also serving as a useful cross-check of the rNPV analysis. We helped the in-house team build the case for the deal at board level, emphasizing the value of the strategic logic of the deal and setting out the non-financial drivers of the opportunity.