Abstract
In the past it was not extraordinary for US biotech companies to develop drugs in the US and to launch them only in the US market. Any business coming from outside the US was seen as a bonus, but not always strategically planned, and often via partnering rather than direct commercialization.
However, with mounting pricing pressures on biopharmaceutical companies, it is becoming increasingly important to launch products globally to maximise value. This article will explore the rising importance for US companies to expand into Europe and the different routes to get there. What considerations need to be made and how can you best prepare yourself for European commercialization.
Reasons why US companies have turned their focus to Europe
1. Commercial Potential:
Europe – although fragmented and comprising multiple national systems, represents the most profitable and sizable market after the US. The European market for pharmaceuticals currently represents approximately 22% of the global pharmaceutical market and is expected to continue growing, driven mainly by the expanding purchasing power in central and eastern Europe. For some indications such as rare or orphan diseases Europe is often as profitable as in the US due to the nature of the state healthcare systems.
Figure 1: Breakdown of Worldwide Pharmaceutical Market - 2017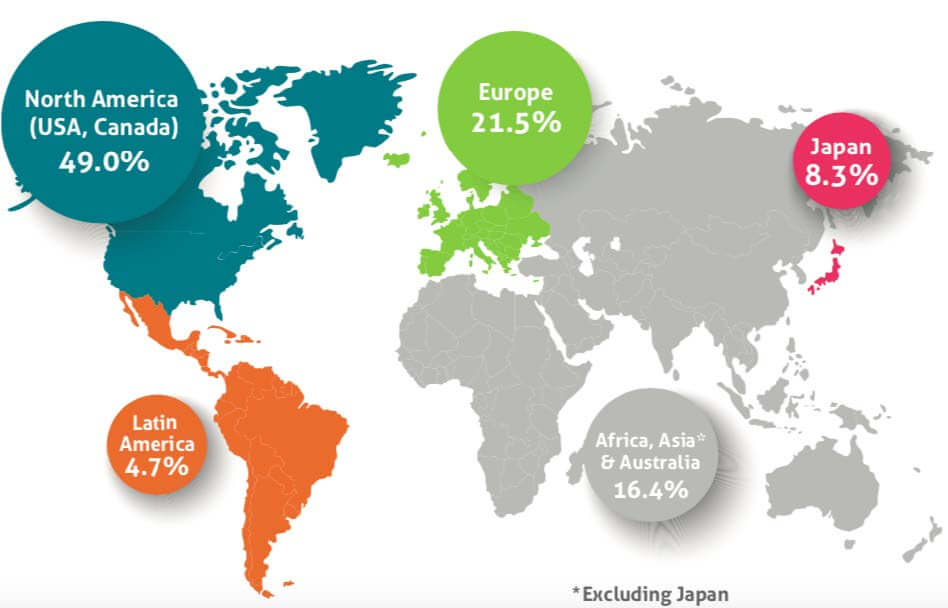 Source: IMS MIDAS 2017 – EFPIA Report
2. Impact on Global Prices:
What happens in Europe impacts the rest of the world. Europe is the most advanced region of the world in terms of assessing the cost/benefit impact of pharmaceuticals and asserting corresponding pressure on pricing/reimbursement.
European countries cross-reference each other's prices heavily as can be seen in Figure 2. Only three European countries – UK, Denmark and Sweden – do not use price referencing. In turn, European countries are used for global price referencing. France, Germany, Italy and Spain are used as price references for between 18-20 countries impacting the prices globally across all continents in mature and emerging markets.
To ensure a strong global footprint, it is therefore essential for US companies to understand the different mechanisms of price setting in EU markets and ensure that clinical trials have meaningful endpoints and comparators, and that the data generated in these trials demonstrate drug innovation, benefit over existing therapies, cost effectiveness and evidence that quality of life is maintained. Early engagement with HTA agencies on a national level with e.g., NICE in the UK and the GBA in Germany is recommended to provide input into pivotal trial design.
Figure 2: Reference Pricing across European Countries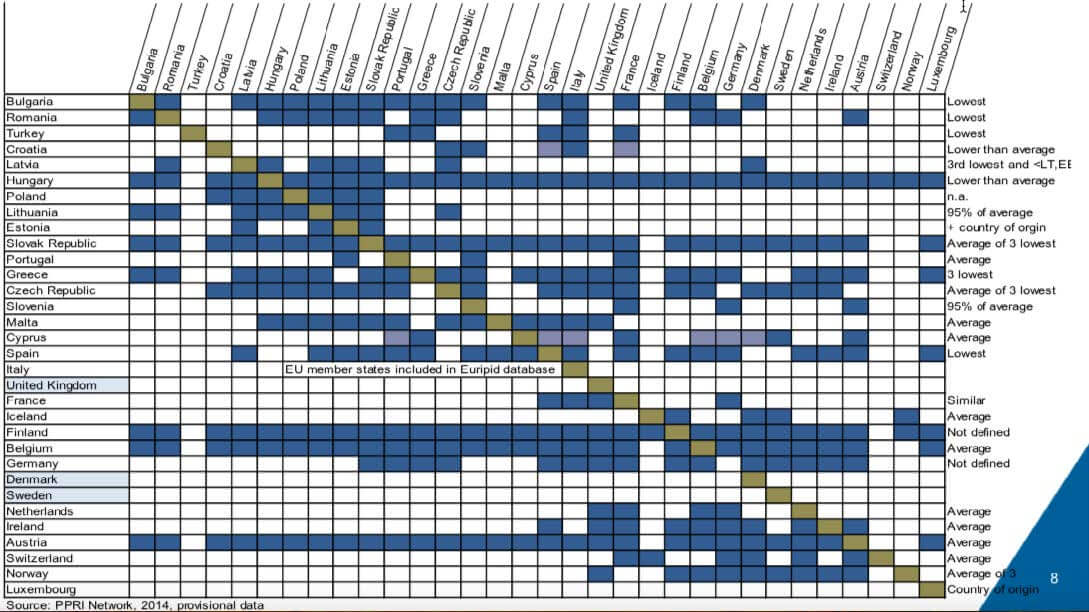 Having the option of commercializing in the EU without a partner strengthens the company's negotiating position with other ex-US partners. All companies must tailor their development plans for the European market to optimize the value of their assets but the critical point here is that having some idea of what it takes to commercialize the asset in Europe empowers partnering discussions.
3. Better Healthcare Systems – Models for the US in the future
In Q4 2017, The Economist Intelligence Unit developed an index to measure how healthcare systems across the world are working to solve the most pressing healthcare needs of their populations. The Global Access to Healthcare Index evaluates access to prevention of and treatment for the most important medical conditions and the availability of healthcare system providing relevant services. Figure 3 below depicts the criteria used to define performance on the Global Access to Healthcare Index and the top 10 performers on the global stage. In the top 10 countries are 6 EU countries, including the top 5 largest markets. All of them are ahead of or equal to the USA, which lies at joint 10th with Spain.
Political will, equality of access and population coverage as well an adequate level of expenditure all play an important role in this index. European markets achieve this level of performance whilst spending significantly less per capita on healthcare (9.4% for the EU vs 17.9% for the US). The USA spends approximately $5,000 more per person per year on healthcare than Europe.
Figure 3: The Global Access to Healthcare Index Criteria and Top 10 Performing Countries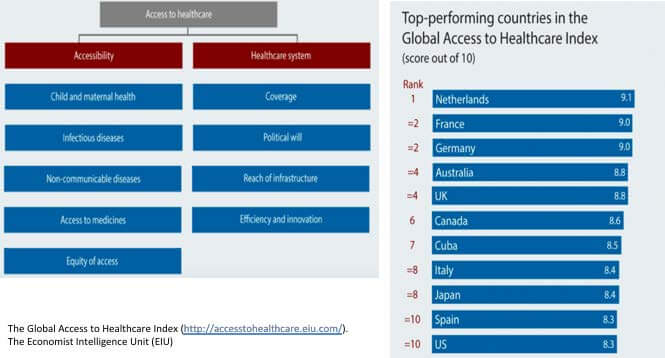 Amidst growing signs that the US cannot sustain its healthcare cost burden, and evidence that European-style scrutiny of drug prices is coming to the US, planning for success in Europe puts companies on a stronger footing back home. US House Democrats caused a minor stock market correction when they sent a letter to Gilead asking it to explain how the company set its $84,000 price tag for Sovaldi. Although US payers do not have the same purchasing power as their European counterparts, building a plan to demonstrate a drug's value to US patients, payers and physicians is a sensible strategy.
Can we go it alone in Europe?
Traditionally, for many small to mid-size biotech companies in the US, the pathway to European expansion has been very simple: find a large company that is already well established in Europe and licence the marketing rights to them. It saves the inexperienced company from the daunting process of dealing with European approval processes, not to mention time and money. While going down the out-licencing path may be low cost low risk approach, companies often give away 65-70% of the asset value and lose out on the opportunity to build a global brand and strategy. On the other end of the spectrum, going it alone in Europe comes with its own risks and high cost.
Typically, companies are looking at $100 million investment with a long break-even period of 3-5 years until they see first profits. However, for companies who are willing to invest and perhaps already have knowledge and a network in Europe, there may be no need to share profits and control over their asset, making the journey extremely rewarding. In recent years we have seen several success stories of US biotech companies launching their products in Europe; one of them includes Cambridge based biotech Ariad (now part of Takeda Pharmaceuticals). Ariad managed to launch its product Iclusig (ponatinib), indicated for chronic myeloid leukaemia (CML) and Philadelphia chromosome-positive acute lymphoblastic leukaemia (ALL), within 18 months of approval in over 27 European countries, with a cross functional launch team covering market access, supply chain, regulatory, quality and medical affairs put in place.
A further option that companies must consider is collaborating with a strategic partner who can help them develop and implement a suitable market entry solution. In this fee-for-service model, the company is guided by experts with experience in Europe's regulatory environment and have a deep understanding of the markets. For small to midsize companies, it can be a cost-effective way to taking advantage of partner who can help navigate through the process and already have established networks, without giving up control and long-term value. Also, with deep knowledge of the European labour laws, they are also able to hire senior management executives and entire product teams to efficiently develop workforce outside of the US.
Planning for success – key considerations
With three main commercialisation options available to companies, which factors should be considered to ensure a successful strategy? Surprisingly, only approximately 30% of companies who have EU rights to their assets actually know what their entry strategy into Europe is. To help crystallise the investment needs, drawing up a draft launch plan is key.

Figure 4 Key stages of planning to ensure successful strategy implementation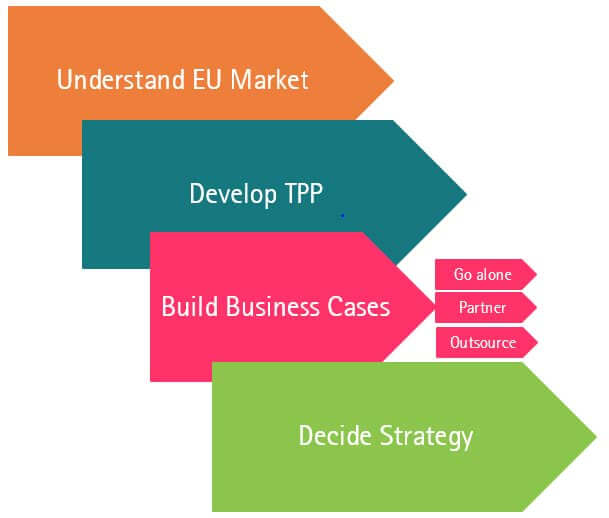 Understand the EU market & develop TPP
At the end of your phase 2 trial and before moving in to the pivotal trial, complete a thorough analysis and decide whether to go alone, to out-license or to use a fee-for-service launch company.
You will need a good understanding of the following aspects:
Size of market opportunity
Unmet medical need
Orphan vs non-orphan approach
Differentiation of your product vs competitors
Level of cash you have for investment
Surprisingly, only approximately 30% of companies who have EU rights to their assets actually know what their entry strategy into Europe is. To help crystallise the investment needs, drawing up a draft launch plan is key.
Build business cases & decide strategy
Do not leave any stone unturned
Evaluate all your options thoroughly. Consider hiring a part-time Chief Commercial Officer or Chief Business Officer to act as a central project manager. They can analyse the options and risks to ensure that no global expansion opportunity is missed. Think about building a proxy term sheet to outline what it would take to make a partnership attractive.
Plan your clinical trial carefully
Make sure you build your phase 3 study for success in key European markets (EU5) by including market access endpoints, ensuring the clinical study regimen and comparators which are relevant for Europe and by choosing key trial sites to enable key advocates to have access and experience with your drug. A placebo-controlled phase 3 trial is generally not sufficient for European approval.
Think about your partnering terms
If you are thinking of out-licensing your product or finding a fee-for-service partner, ensure that negotiations start 18-24 months before launch. It will take time to build a dedicated team, prepare the regulatory file, apply for reimbursement, build supply chain and manage the launch campaign. Be sure to build the deal terms to be as specific as possible. Set a timeline and decide on specific milestones that must be reached and by when. Use the deal structure to mitigate risk and use drawbacks and penalties to re-acquire the asset if it is not optimally managed.
Hiring – it is not a quick process
Hiring teams in Europe takes on average 6 months and can take longer for senior executives. Plan enough time for this process and work together with experienced head-hunters. When recruiting be careful not to rely only on a brand name from a big pharma company.
Summary
Europe is a key market for US biopharma companies and to ensure success, early planning to
determine the most effective commercialization strategy is key.
About Alacrita
Alacrita is a transatlantic life science consulting firm specializing in biotech and pharma. We've built our team carefully, handpicking only those life science consultants with deep domain knowledge and senior business experience. With more than 200 successful client assignments each year, we're proving what's possible for pharma and biotech consulting in a new era of opportunity.
About the author – Anna Casse
Anna is an experienced commercial leader with a rare combination of strategic consultancy, hands-on P&L and deal transaction experience in pharma and biotech. Anna has launched 13 products in oncology and rare diseases. She had direct P&L responsibility for global, European and individual country businesses. Anna built a successful European biotech business for a US based company from scratch.